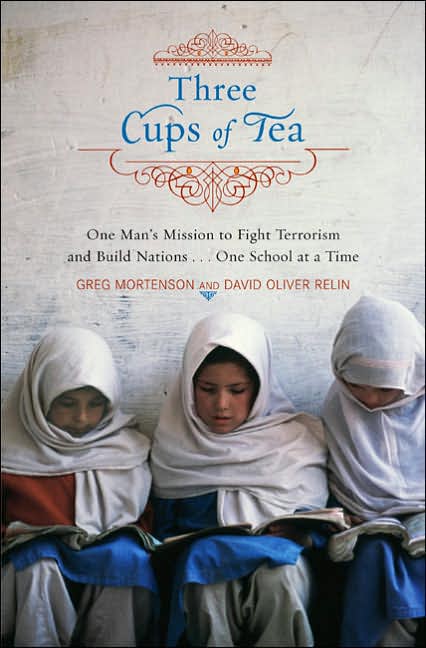 So I intentionally saved reading Greg Mortenson's Three Cups of Tea until after I had finished A Thousand Splendid Suns I figured that I would need to follow up with a more positive outlook on Afghanistan and Pakistan. I was right. See the review below:

From Publishers Weekly
Starred Review. Some failures lead to phenomenal successes, and this American nurse's unsuccessful attempt to climb K2, the world's second tallest mountain, is one of them. Dangerously ill when he finished his climb in 1993, Mortenson was sheltered for seven weeks by the small Pakistani village of Korphe; in return, he promised to build the impoverished town's first school, a project that grew into the Central Asia Institute, which has since constructed more than 50 schools across rural Pakistan and Afghanistan. Coauthor Relin recounts Mortenson's efforts in fascinating detail, presenting compelling portraits of the village elders, con artists, philanthropists, mujahideen, Taliban officials, ambitious school girls and upright Muslims Mortenson met along the way. As the book moves into the post-9/11 world, Mortenson and Relin argue that the United States must fight Islamic extremism in the region through collaborative efforts to alleviate poverty and improve access to education, especially for girls. Captivating and suspenseful, with engrossing accounts of both hostilities and unlikely friendships, this book will win many readers' hearts. (Mar.)
Copyright © Reed Business Information, a division of Reed Elsevier Inc. All rights reserved.

Finishing the book didn't just leave me with a warm, fuzzy, "how great is it that he is doing such meaningful work?" feeling however... It left me wondering, "What am I doing personally to impact those in less fortunate parts of the world?"

In all honestly, I do a lot. In addition to serving as missions director at our church, where we have a $100,000.00 annual missions budget, J and I also support several missionaries privately. We sponsor a child in Tanzania through Compassion. We have paid for a Tanzanian pastor's college education. We travel regularly on short term missions trips overseas and have even taken two of our children to Africa on mission trips. We are going on another trip this fall to Tanznaia where we will work at malaria clinics in Zanzibar, Dar Es Salaam, and Ikwirriri, Tanzania.

Missions isn't just something that we believe in, it's something we live. But while living a comfortable life in the Silicon Valley- so far we are only giving out of our excess. We could do more. We need to do more.

I encourage you to read this book, then ask yourself, "What I am doing?"

For more information about Greg Mortenson's work in Afghanistan and Pakistan, or to make a contribution- check out his non-profit organization's website- Central Asia Institute.