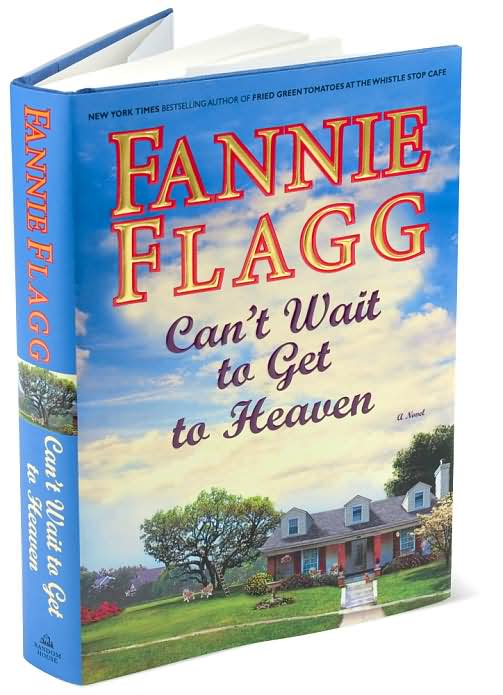 So I figure if I'm going to keep a list posted of the books I've read, I should at least tell you what I think about them... Yesterday I read Fannie Flagg's Can't Wait to Get to Heaven. (And the answer to your un-asked question is- yes, I am a fast reader.)

The following review is from Publishers Weekly-

Returning to Elmwood Springs, Mo., (where her sprawling 2002 novel, Standing in the Rainbow, chronicled the small town's inhabitants over five decades), Flagg keeps this outing much more tightly-focused; most of the novel takes place over a few days. Octogenarian Elner Shimfissle falls off a ladder after accidentally disturbing a hornets' nest while picking figs. After she dies at the hospital, the novel's bite-size chapters alternate between funny and touching vignettes showing how Elner's death and life has affected dozens of people in town, interspersed with scenes of Elner's laugh-out-loud assent into the hereafter. From there, the plot offers readers a series of delightful surprises. Perhaps Flagg's funniest novel since her debut, Daisy Fay and the Miracle Man, she's created a charming, life-affirming tale and a full cast of memorable characters, including Elner's late sister, Ida, who greets her in heaven still carrying her purse and a grudge about the bad hair styling she got for her funeral. Flagg is an expert at balancing pathos with plenty of Southern sass, and this could very well be the feel-good read of the summer.
Copyright © Reed Business Information, a division of Reed Elsevier Inc. All rights reserved.

I enjoyed this book. It was laugh-out-loud funny, touching, and not too deep- with lots of southern humor. While not always theologically correct (at least not in my opinion- but hey I am the one writing this blog!) it was thought provoking as well.

If you're looking for a book to read, I would definitely put it on my list of recommendations...